This weekend, Bernd Zeimetz organized a BSP at the offices of conova in Salzburg, Austria. Three days of discussions, bugfixes, sparc removals and a lot of fun and laughter.
We squashed a total of 87 bugs: 66 bugs affecting Jessie/Sid were closed, 9 downgraded and 8 closed via removals. As people tend to care about (old)stable, 3 bugs were fixed in Wheezy and one in Squeeze. These numbers might be not totaly correct, as were kinda creative at counting... Marga promised a talk about "an introduction to properly counting bugs using the 'Haus vom Nikolaus' algorithm to the base of 7".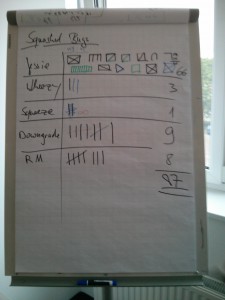 Speaking of numbers, I touched the following bugs (not all RC):
A couple of (non-free) pictures are available at Uwe's salzburg-cityguide.at.
Thanks again to Bernd for organizing and conova and credativ for sponsoring!